Web Accelerators
Various tools to boost the loading speed of your web sites
Within the Online Control Panel you can find a set of Website Accelerators meant to speed up your dynamic, database–powered web sites. By caching web content, these software tools significantly decrease the number of times a database is read and thus decrease the server load. This will help all your sites open faster and will decrease the bounce rates. You can choose between several website accelerators – Varnish, Memcached and Node.js.
Multiple Data Centers
Shared web hosting packages on three continents
Our shared web hosting network spreads across several continents – America (the Steadfast data center facility in Chicago, Illinois, US), Europe (the Pulsant data center in Maidenhead, United Kingdom, the Ficolo underground data center in Pori, Finland and the S3 data center in Sofia, Bulgaria) and Australia (the Amaze data center in Sydney). As a result of this, irrespective of where you are actually located, you will be able to pick a datacenter facility that is nearest to your target site visitors. This way, you'll warrant the most quick achievable web site loading speeds for all of them. You will be able to select your data center facility anytime with just a mouse click on the signup page.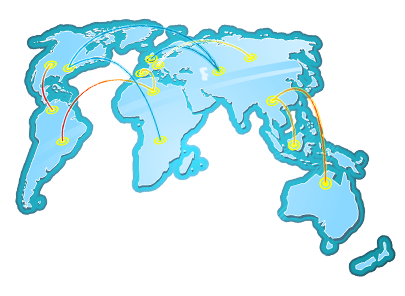 Scripting Support
Full scripting support with all our cloud hosting plans
All our shared web hosting packages offer scripting support. You'll be able to use any PHP or Python–driven web application and also take advantage of more than three thousand and four hundred Perl modules supported by our Linux–powered web hosting servers. Also, you will be able to use MySQL and also PostgreSQL databases and make use of the InnoDB storage engine included with each web hosting package. Zend Optimizer, SSI, GD Library and ImageMagick are all supported as well.
Domain Manager
Multi–domain administration done right
With the Managed.gr Online Control Panel, you are no longer limited to work with just 1 domain. You can manage one or one hundred domain names in the exact same simple and intuitive way. We've also included a few other handy tools, that will allow you to park, redirect & Whois Privacy Protect your domain names as well as to set custom DNS records. Having all these domain management options in one place will spare you considerable amounts of time and energy.
---
Service guarantees

All of our plans include zero setup charges plus a 30–day money–back guarantee. Managed.gr's typical reply time is 20 minutes.
Compare our prices

Check out our pricing and pick the very best hosting solution for your individual or business web sites. It's possible to migrate to a more feature–rich package with only a click of the mouse.
Contact Us

Contact us at any time during working hours Monday to Friday for just about any pre–sale or common questions concerning Managed.gr's platform. Give us a call at any moment.