Solid–State Drives
Immediately speed up your web site
If you want to give your site a speed boost, all you have to do is simply to host it with us. Our shared web hosting servers boast solid–state disks, so on each physical machine you'll enjoy unparalleled read 'n' write speeds, which will make your web site truly fast.
With the outstanding connectivity provided by each of our cloud web hosting Data Centers, your web site will begin to load considerably faster without any need for any modifications on your end.
Enhanced Service Stability and Security
A web hosting platform based on security–improved Linux–powered servers
Our servers run a security–enhanced Linux distribution, which makes them perfectly–protected and durable. We've put lots of time and effort into building a secure platform that can survive massive hacker or even DoS attacks without any disruptions to the hosting service and putting at risk your web site's overall performance.
ModSecurity
A safe web application firewall software
We offer an instant method of securing each web app in your cloud hosting account, irrespective of whether it is newly installed or has been imported from some other web hosting vendor. All our shared web hosting packs offer ModSecurity – a web application firewall, which is activated automatically. We've configured it to instantly ward off the majority of hacker assaults. This suggests that when you host your site with us, it will be safer than ever before.
Remote MySQL Access
Remotely connect to your database
Creating a remote MySQL database connection can be hard with other web hosting distributors. But at Managed.gr, we've rendered the process amazingly easy – what you need to do is specify the IP of the hostname you would like to allow access and our clever system will do the rest. A remote MySQL connection can be extremely helpful if you need to share a database across different sites.
VPN Access
Safe, anonymous surfing
If you wish to remain truly anonymous while surfing the World Wide Web, we offer you a simple and effective solution. With all our shared web hosting packages, you will be able to get Virtual Private Network access. We will redirect your entire incoming and outgoing online traffic through one of our virtual private network data centers, making your electronic footmark untraceable. And you'll get VPN access regardless of what web–connected device you use.
99.9% Server Uptime Guarantee
A 99.9 percent server uptime in the United States of America, in Europe and in Australia
Keeping your sites accessible online 24–7–365 is our chief duty. We have developed our own shared web hosting system where the server load is being evenly divided between a number of machines to guarantee that your websites will always be up and running even when a specific physical machine is overloaded. Our 99.9 percent network uptime guarantee applies to all data center facilities that we partner with – in the USA, in the European Union and in Australia.
Multiple Data Centers
Shared web hosting packages on three continents
Our shared web hosting network spreads across several continents – America (the Steadfast data center facility in Chicago, Illinois, US), Europe (the Pulsant data center in Maidenhead, United Kingdom, the Ficolo underground data center in Pori, Finland and the S3 data center in Sofia, Bulgaria) and Australia (the Amaze data center in Sydney). As a result of this, irrespective of where you are actually located, you will be able to pick a datacenter facility that is nearest to your target site visitors. This way, you'll warrant the most quick achievable web site loading speeds for all of them. You will be able to select your data center facility anytime with just a mouse click on the signup page.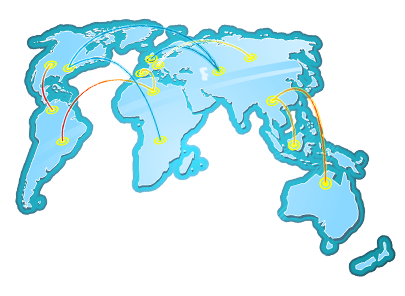 ---
Service guarantees

All of our plans include zero setup charges plus a 30–day money–back guarantee. Managed.gr's typical reply time is 20 minutes.
Compare our prices

Check out our pricing and pick the very best hosting solution for your individual or business web sites. It's possible to migrate to a more feature–rich package with only a click of the mouse.
Contact Us

Contact us at any time during working hours Monday to Friday for just about any pre–sale or common questions concerning Managed.gr's platform. Give us a call at any moment.