Features
Set Up and manage your websites in the cloud at the least expensive end price
Host your data–laden sites in the cloud at a terrific price. Our custom–made shared web hosting platform offers you lots of hosting resources and distributes the server load among several physical machines, so you'll never ever deal with slow site loading speeds or network interruptions. With unmetered web space and web traffic allowances, you don't need to worry about your sites. Every single hosting package features a point 'n' click Online Control Panel to help you easily utilize the available resources, and an unconditional thirty–day MBG so that you can request a reimbursement if you are not happy.
Faster Performance
We've boosted the data bandwidth to as much as 10 Gbps to guarantee improved online connectivity and supersonic loading speeds for your websites.
Additional hosting servers will simplify server maintenance tasks and will decrease irritating service disruptions and downtimes. In addition, all user accounts are now located on SSDs, which have proved to be considerably faster and more stable as compared to the ordinary HDDs.
Service Scalability
Take advantage of the available hosting resources at any time
Our cloud hosting system allows for the load to be distributed among a couple of web hosting servers rather than just one. This permits you to you take advantage of the available hosting server resources and enjoy monstrously fast web site load speeds even if the hosting server is overloaded. In addition, you will be able to further improve your data space, monthly traffic and CPU usage quotas, or move to a more powerful web hosting package if you'd like to with a click.
File Manager
A drag 'n' drop user interface
To operate with the File Manager located in the Online Control Panel is identical to working with your own computer file manager. You'll be able to upload a file or folder onto our web hosting server or the other way around with a simple drag–and–drop action. Additionally, you'll be able to create, move, copy, delete and rename files & folders with just a click. The source code editor and the What–You–See–Is–What–You–Get editor will help you edit your files from inside the Control Panel. If you need help, you can watch the included instructional video tutorials.
Email Manager
Control your email accounts with a simple click
By using the point–and–click E Mail Accounts Manager incorporated into the Online Control Panel, you'll be able to gain full control of your own e–mailboxes. Set up brand new email mailbox accounts with a single click of the mouse and adjust all their settings from just a single place. You'll be able to redirect emails to another electronic mail account, fine–tune custom e–mail filters, activate anti–spam & anti–spoofing protection, generate custom autoresponder messages and even more. You may even manage mailing list campaigns./
Web Stats
Hosting Control Panel–integrated web statistics
From your Online Control Panel, you'll be able to both control and keep an eye on your sites. Every single shared web hosting package offers a set of stats interfaces, which you can see in the Web Statistics Manager section of the hosting Control Panel. You'll be able to use the common Webalizer and AWStats web statistics tools or make use of our newly developed thorough web statistics software tool, which includes a useful web analytics interface. With Managed.gr, you will see elaborate info related to your web site's traffic and visitors right inside your Control Panel.
Multiple Data Centers
Shared web hosting packages on three continents
Our shared web hosting network spreads across several continents – America (the Steadfast data center facility in Chicago, Illinois, US), Europe (the Pulsant data center in Maidenhead, United Kingdom, the Ficolo underground data center in Pori, Finland and the Telepoint data center in Sofia, Bulgaria) and Australia (the Amaze data center in Sydney). As a result of this, irrespective of where you are actually located, you will be able to pick a datacenter facility that is nearest to your target site visitors. This way, you'll warrant the most quick achievable web site loading speeds for all of them. You will be able to select your data center facility anytime with just a mouse click on the signup page.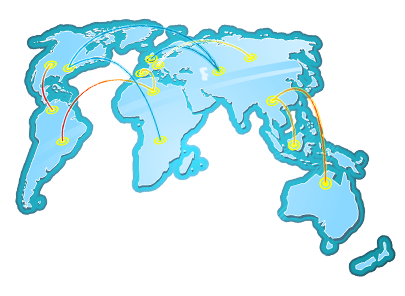 True Cloud Platform
We have designed our very own custom shared web hosting system based on the most recent enterprise–level technology. Having each service (DNSs, email messages, databases, web apps, etc.) dealt with by a different server, your site content will operate in the cloud and will also be completely protected from incidental network downtimes and performance disruptions.
Website Builder
Save money on a web designer – set up your sites with one mouse click
Save some money on expensive website design services – we provide you with all the tools that you will need to complete the task yourself. Thanks to the convenient Free Of Charge Website Creating Application, you can create a whole site with one click using one of the offered pre–defined design layouts. Then you will be able to add all your custom content. We offer more than 100 web design skins for both personal and business sites offering various colour combinations.
---
Service guarantees

All of our plans include zero setup charges plus a 30–day money–back guarantee. Managed.gr's typical reply time is 20 minutes.
Compare our prices

Check out our pricing and pick the very best hosting solution for your individual or business web sites. It's possible to migrate to a more feature–rich package with only a click of the mouse.
Contact Us

Contact us at any time during working hours Monday to Friday for just about any pre–sale or common questions concerning Managed.gr's platform. Give us a call at any moment.